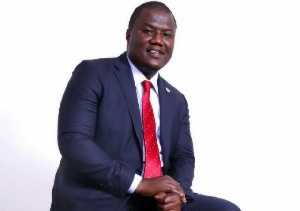 Persons who are not members of the New Patriotic Party (NPP) in the Effiduase-Asokore Constituency of the Ashanti Region, will not be direct beneficiaries of the MP's share of the Common Fund, the lawmaker for the Constituency has declared.
"It is politics we are doing and I am going for power…….at the end of the day if you help me I will also reciprocate….Though I intend to help everyone including members of NDC in my constituency", he explained.

The MP who was speaking on disbursement of his Common Fund on Kumasi-based Nhyira FM revealed that unlike his predecessor, members of his campaign team in the 2016 polls will be the first to benefit from the fund.

"It is my fundamental policy that members of my campaign team and NPP people have to benefit from my Common Fund before anybody….where does my votes come from", the lawmaker quizzed.
"I will not allow anyone to disgrace my hardworking executives just because I am helping my constituents," he fumed threatening to expose rot that happened under his predecessor, Lawyer Ayimadu Antwi.

"I will take this fight to their camp when I return to Ghana," the MP who is currently on official assignment outside the country spoke from his base about alleged embezzlement by his predecessor.