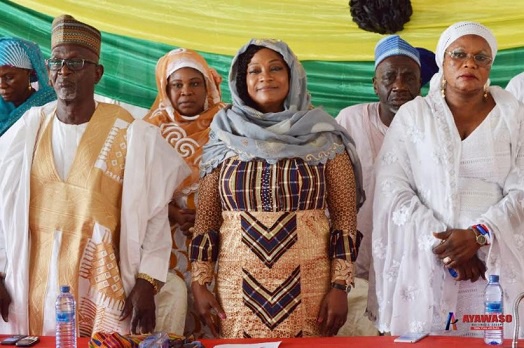 Fri, 26 Jan 2018 Source: Ayawaso Multimedia Group
Zongo women for New Patriotic Party, a vibrant women group in the ruling party recently organized a thanksgiving prayers at Hajj village in honour of their God for granting them success in the 2016 elections.
The program was chaired by the former second lady of the Republic of Ghana, Hajia Ramatu Mahama, in attendance too was Hajia Ramatu Mahama, Alhaji I.C Quaye, Alhaji Maiga, Hon. Otiko Djaba, Minister for Gender and social protection, Hon. Mawusi Nudekor Awity, Zongo chiefs and Zongo Imams.

The founder of Zongo women for NPP, Hajia Barkisu Siedu, popularly known as ''Hajia Bawie' who stood in for the second lady of the Republic of Ghana, Hajia Samira Bawumia,' congratulated the leaders of the party, Zongo chief's and the Zongo communities for their loyalty and commitment which propelled the party to a great victory in the elections.
She also recognized the efforts of the NPP pressure groups and the Zongo leaderships.

Meanwhile, Gender Minister, Hon. Otiko Afisa Djaba encouraged women to work hard because hard work breeds success.
Source: Ayawaso Multimedia Group