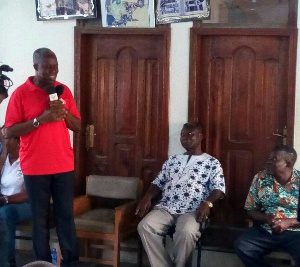 Sat, 24 Sep 2016 Source: Maxwell Addo
Vice President Kwesi Amissah-Arthur has stated that government has increased enrollment to 10,000 and access to nursing training colleges, as a result of the withdrawals of nursing training allowances.
He made the statement at the Saviour Nursing Training College when he addressed the students as part of his visit to the Church on Saturday morning. He said as a result of this their grades have been moved from level 5 to level 8.

Mr. Amissah-Arthur added that government would use the savings for infrastructure expansion in the training colleges. The Vice President also thanked Opanyin Abraham Adusei and Saviour Church of Ghana for contributing meaningfully to Ghana's development.

He said the NDC will continue to tell Ghanaians the good work of President Mahama and the need for them to renew his mandate for another four years.
Member of the Council of State, Opanyin Abraham thanked the NDC government for providing the church with a senior high school, hospital and other infrastructure thereby assisting the Osiem community greatly.

He said the unprecedented achievements of the NDC government is there for all to see. As a result, the church will continue to support the NDC government to spread development to all.
Source: Maxwell Addo