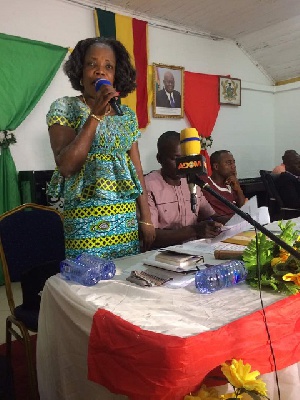 Fri, 3 Aug 2018 Source: Sampson Manu
Honourable Faustina Amissah has received an overwhelming endorsement from the Assembly members of the newly created Obuasi East District as the District Chief Executive of the district.
Hon. Amissah who until her nomination by the President, was the sitting Assembly Member for the Ahansonyewodea electoral area, secured 27 out of the 27 votes cast on the day which represents 100% of the total votes obtained.

Before the DCE confirmation, the Assembly members also endorsed Hon. Jeff Adjei as the Presiding Member of the Assembly after his only contender Hon Emmanuel Arthur stepped down. It would be recalled that the Presiding member elections had to be postponed after two unsuccessful attempts to elect a Presiding member.

The Member of Parliament for Obuasi East, Hon. Dr. Patrick Boakye Yiadom and a representative of the Regional Minister, Mr. Kwabena Senkyire all seized the opportunity to appeal to the Assembly to put their differences aside and rally behind the District Chief Executive and the Presiding Member for the betterment of the new district.
In her acceptance speech, the newly confirmed DCE for Obuasi East, Honorable Faustina Amissah thanked the President His Excellency Nana Addo Dankwa Akuffo Addo for reposing so much confidence in her and appointing her as the DCE. she also thanked Nananom and the Assembly Members for their massive and profound support.

She appealed to members of the Assembly, Nananom and the people of Obuasi East to support her by burying their differences in their quest to ensure that the district gets its fair share of massive development. "Unity is strength... when there is teamwork and collaboration, wonderful things can be achieved", she added.

The Obuasi East District Assembly was carved out of the Obuasi Municipal Assembly as part of the 38 new districts which were created by the President and was inaugurated on 15th March 2018. It is made up of 19 electoral areas with Tutuka as its Capital.
Source: Sampson Manu