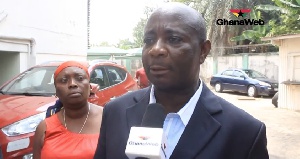 The embattled presidential nominee for the United Progressive Party (UPP), Kwasi Addai Odike, who formally informed the Electoral Commission (EC) on Wednesday that he is backing out of the 2016 presidential election has thrown his weight behind the flagbearer of the New Patriotic Party (NPP), Nana Addo Dankwa Akufo-Addo.
Odike says he will hold an official press conference on Monday, November 14 to invite all the 'smaller' political parties to join him in his bid to campaign for the NPP and its flagbearer to unseat President Mahama and the National Democratic Congress (NDC).

Odike announced the decision to abandon his presidential ambition, citing frustration by the Electoral Commission and its Chairperson, Charlotte Osei.
Speaking in an interview with Onua FM's Ghana Dadwene Wednesday, Odike told the host, Kwame Karikari in Akan that "we need the one who can help us move Ghana forward so all the other parties must came together to vote out NDC in December".

He said Americans have changed theirs and Ghana must also change that is "why I will support who will bring change to Ghanaians".