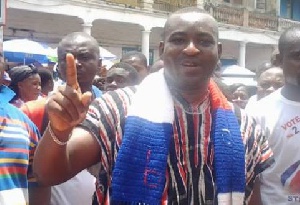 Fri, 6 Apr 2018 Source: Daniel Kaku
The Programs Manager and aide to the Ashanti Regional Chairman of the ruling New Patriotic Party, Andy Owusu has explained that the decision to name the soon to be constructed Regional Office Complex under the late Baffour Osei Akoto is to honour the sacrifices and commitment made by the late Chief Linguist towards the formation of the NPP.
Andy Owusu opines that no one deserves the honour more than the late Baffour Akoto whose sacrifice and selfless contribution led to the establishment of the UP tradition which later gave birth to the NPP.

The late Baffour Akoto, who was said to be the most popular and longest serving Chief Linguist in the history of the Asante Kingdom, actively led the crusade for the formation of the UP tradition which later culminated in his incarceration under the Nkrumah regime.

For his invaluable contribution to the UP tradition, the Ashanti Regional Office of the party is set to honour him with the construction of an ultramodern office complex to accommodate the party.
A sod-cutting ceremony is set to be held on April 19 to officially commemorate the commencement of the construction of the project christened "Baffour Akoto Office Complex".

According to the Programs Manager of the NPP Regional Chairman, the gesture will serve as a motivating factor for others to selflessly contribute their quota to the development of the party.

He said family members of the late Chief Linguist will be given the honour to address the ceremony expected to be attended by several dignitaries both locally and internationally.
Source: Daniel Kaku