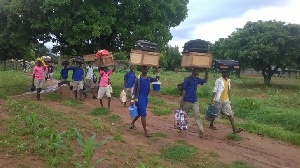 David Ofori Acheampong, General Secretary of the Ghana National Association of Teachers (GNAT), has asked all head teachers to explain the rationale behind the Free Senior High School (SHS) programme to all the students who are benefiting from the programme.
According to him, there is the need to explain to the students that the programme is for three years therefore, if they fail to progress along the line, they will not continue to enjoy the programme. This situation, he said required that all the students take their studies seriously.

The Akufo-Addo-led government's flagship programme begins today, Monday, 11 September as first-year students who were successfully placed in various SHSs report officially.

Speaking on the Ghana Yensom show on Accra 100.5FM hosted by Chief Jerry Forson, on Monday, September 11 Mr Acheampong said: "My advice to all the head teachers is that they organise orientation for the students on the purposes of the Free Senior High School programme.
"The students will need to be told that the programme is for three years and so if the fail to progress they will not continue to enjoy the programme. It means they will have to take their studies seriously."

He added: "I will also urge the government to continue fulfilling its part of the bargain by providing the resources we need to do effective teaching."