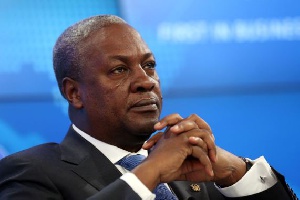 Credible information from parliament indicates over ninety-four (94) MPs on the Minority side have declared former President John Dramani Mahama as their preferred choice to lead the NDC in its quest to regain power in 2020.
It will be recalled that on Wednesday, November 1, 2017, eighty NDC MPs called at the office of the former President to urge him to offer himself to lead the NDC in the 2020 election, pledging their support towards that cause.

These MPs have since then formed a group called MPS4JM (Members of Parliament for John Mahama) and their number has increased from eighty to ninety-four with a few more expected to join. They have been holding meetings to plan and strategize on how best to support the former President. The NDC has a total of one hundred and six (106) MPs.

In furtherance of their cause, the MPs have levied themselves a one-time bulk amount in addition to a monthly contribution which is paid into an account solely opened for the cause.

The 'Daily Post' has sighted a social media group platform created by these MPs and on which they interact. It is named MPS4JM 2020. Reliable sources within the group have hinted this paper that MPS4JM will soon publicly declare its support for the former President, likely before the impending NDC regional elections or soon after.

The sources said the MPs are even more convinced that John Mahama is the man given his sterling performance as President of Ghana especially when compared to the abysmal performance of President Akufo-Addo and his government and the despondency currently amongst the populace.
They further believe John Mahama is best placed to return the NDC to power in 2020 because of his competence, track record, experience and popularity. They hold that he is the most popular Ghanaian as polls conducted recently ( by joyfmonline) showed and hence it will be easier and less expensive to market him.

Information gleaned from the office of the former President confirmed MPS4JM has met him and other senior staff in his office on a number of occasions. The most recent meeting was held before his departure to observe the Zimbabwean election as head of the Commonwealth Observer Group. At the meeting, the group reassured him of its unflinching support and informed him of their financial contributions in support of his return.

They also pledged their commitment to play a prominent role to ensure he gets the nod of delegates to lead the NDC to victory in 2020. Former President after numerous calls from party supporters since mid-last year took to his Facebook page on March 19, 2018, and hinted he would contest for the 2020 flagbearer slot of the party when the party goes to Congress at the close of this year.

He wrote; "I want to congratulate the rank & file and executives of our party, the NDC, at all levels for the commitment and work rate we have put into our reorganization efforts. The zeal and determination of the average sympathizer of our great party are greater and miles ahead of what it was after the December 2016 Elections. We need to keep up with the momentum generated and follow the published timelines.

To you the teeming supporters and sympathizers calling and requesting me to declare my intentions for the future, I wish to assure you today, that as a servant-leader, I have listened to your calls and reflected. I will not disappoint you even as we await the publication of the party's guidelines for selecting a new leader."