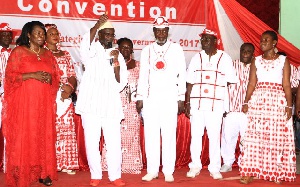 The Progressive People's Party (PPP) has introduced a 12-member presidential policy team to devise strategies the party can use to develop the country.
The team, whose work has already begun in earnest, will among other things engage broader consultation with stakeholders, undertake extensive research activities, and make recommendations on how an Nduom-led government can best execute its policy document to the benefit of citizens.

Addressing a news conference at the party's headquarters in Accra on Monday August 15, flag bearer of the party Dr Papa Kwesi Nduom indicated that the move was also to demonstrate the unique brand of politics practised by the PPP.

"This is another innovation from the PPP. These are not spokespersons or advisors but our presidential policy team, which is another way we are showing to Ghanaians our distinctive brand which focuses on what we can do to change Ghana for the better," he noted.
According to him various candidates compete to be president of the country but have no solution to problems after winning the seat.

For him, "The PPP presidential policy team is supposed to make sure that we prepare before we get there through research, analyses, and detailed policy preparation for the consideration of the national committee of the party prior to the December 7 elections."

The members of the team include but not limited to Kofi Asamoah, Policy Advisor and Convener for the PPP presidential policy team; Ladi Nylander, Job Creation and Enterprise Development; Dr Bawa Mahama, Economic Infrastructure; and Hilda Nkansah, Technology.