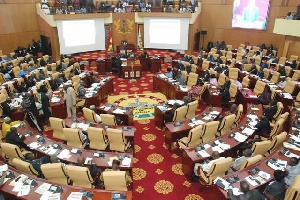 Parliament, that has been on break since April 13, 2019, for the Easter festivities, is to reconvene, on Tuesday, May 28, 2019, for the Second Meeting of the Third Session of the Seventh Parliament of the Fourth Republic.
Mr Joseph Osei-Owusu, First Deputy Speaker and MP for Bekwai, in a recall notice, appealed to the legislators to be present in the House by 1000 hours.

The recall is in pursuant of Standing Order 37 of the Parliament of Ghana, which grants the Speaker the authority to adjourn and recall the House from recess.

Clause Two of Order 37 reads: "A session of Parliament shall be held at such a place within Ghana and shall commence at such time as Mr Speaker may, by Constitutional Instrument, appoint."

The House, which had been on break for the Easter festivities, after it adjourned sine die on April 12, 2019, was recalled for a five-day sitting from Monday, April 29 to Friday, May 3, during which it passed the Companies Bill and Amendment to the AGM petroleum agreement.
The House is expected, during the next meeting to take the Vigilantism and Related Offences Bill 2019, laid under a Certificate of Urgency by Attorney General and Minister of Justice Gloria Afua Akuffo, through consideration and passage.

During the break, a stakeholders meeting was organised on the proposed legislation by the Parliamentary Committee on Constitutional, Legal and Parliamentary Affairs.

It is expected during the meeting that the Minister for Finance and Economic Planning would by June 30, 2019 present to House and the nation the Supplementary Budget for 2019.

The House, pursuant to constitutional provisions, would during the meeting work on bills, ratify financial agreements, make and discuss statements of national interest and invite sector ministers to respond to questions on critical national issues.