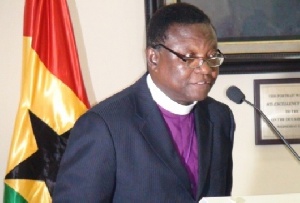 Tue, 27 Oct 2015 Source: GNA
Reverend Professor Emmanuel Asante, the Chairman of the National Peace Council (NPC) has urged media practitioners to be circumspect and exhibit a sense of objectivity when reporting on elections and other sensitive issues.
Rev Asante, who was addressing a stakeholders' forum on election 2012 and the way forward for the general election in 2016 at the weekend in Accra, said circumspection on the part of the media would prevent conflicts in the country.

Organised by the National Peace Council, the forum sponsored by the European Union, and the UNDP, was to review issues and experiences in the last elections and to chart a common path for peaceful elections in 2016.

Rev Asante said the 2012 election was a real test to Ghana's young democracy and the independence of national institutions such as the NPC, Electoral Commission (EC), and the Supreme Court.

Rev Asante said, "the manner in which 2012 elections were held and the challenges which resulted in the petition at the Supreme Court, offered all of us lessons that must not be lost on us".
He said Ghana had long been lauded in the West Africa sub-region and within the international circles, as a safe haven, because it has been spared of the numerous electoral violence and other conflicts that had plagued most countries in the region.

He said the Council in September, met with the state governance institutions including the EC, as the first in the series of engagements to take stock of the collective experiences of election 2012 and plan ahead. "The engagement was not only fruitful, but revealing.

The Council will organise similar engagements with political parties and civil society groups as well." Rev Amoh Darko, Chairman of National Platform of Disaster Risk Reduction also appealed to media practitioners to be more careful in issues that have the potential to result in conflict.

He said: "In years past, allegations of electoral fraud in other parts of Africa, stirred political violence and civil war, causing death and destruction in Ethiopia (2005), Kenya (2007), Zimbabwe (2008), Cote d'Ivoire (2010), DR Congo (2011), among others.
Source: GNA