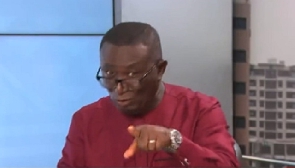 Lawyer and New Patriotic Party (NPP) Member of Parliament (MP), Andy Appiah Kubi has debunked assertions that politicians are a dishonest group of people.
He argued that the perception that politicians are crooks is not wholly true since there are many who are honest in their dealings.

He however conceded that the perception and criticism about the dishonesty of politicians is a wake-up call to them to reexamine their lives and work to reverse the negative public image of politicians.

"When you say politicians are crooks, I don't subscribe to that. When people say lawyers are liars, I disagree also. And I am sure Martin [lawyer Martin Kpebu] will disagree also," he said on TV3's Keypoints programme on Saturday.
"It's a call to you to look at our lives and see how we would better address that issue of the public perception. It is a perception, not reality… There are exceptions to every rule," he added.

Following the revelations that the former Minister for Sanitation and Water Resources had stashed huge sums of money in hard currency, discussions about the dishonesty and insincerity of politicians have reignited. While there seems to be a consensus that politicians are self-serving, there is also a school of thought that some are honest and selfless.