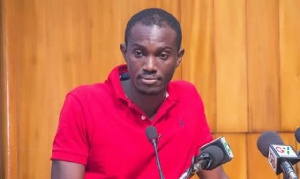 Senior journalists Abdul-Malik Kweku Baako and Kwesi Pratt Jr. are "fake Nkrumahists", the leader of the Economic Fighters League, Ernesto Yeboah, has said.
He said, though they both pride themselves as members of the Convention People's Party founded by Kwame Nkrumah, they lack commitment to the ideals and philosophy of Ghana's first president.

According to Mr Yeboah, "The revolutionary community has been hurt by people like Kwesi Pratt. The revolutionary community has been hurt by people like Kweku Baako. And we need to be able to speak out and say it as it is because with all the influence that they have packed over the years, if they were able to marshal it in a genuine commitment of mobilising our people to free ourselves, I am sure we would have gotten somewhere by now".

Mr Yeboah, who believes the two major political parties in the country – the governing New Patriotic Party and the opposition National Democratic Congress, have failed to inspire economic freedom after many years in power, blamed his senior party members for neglecting the revolutionary fight for other interests.

"When they [Kwesi Pratt and Kweku Baako] speak for the NPP and NDC on radio and television and various programmes, they do so in our name. The revolution must have credibility. We should be able to speak because for all our sacrifices and all our suffering and all the things that we have been doing, we cannot sit down and allow a few people to privatise the people's revolution," Mr Yeboah said.

Mr Yeboah was speaking on the topic: 'Reinforced Neo-colonialism – The Imperative for a United Africa: The Role of the Youth" at an Nkrumah Memorial Day even organised by the African Youth Improvement Foundation (AYIF).


The leader of the Fighters also called on the youth to realise that the fight for African is for a better future for young generations.

In his opinion, "If we leave our future in the hands of the current crop of African leaders, we have no future".

He added: "Left on their own to decide when they want Africa to be united, they chose 2063 when they will conveniently be dead and gone. What they are telling us, by the AU's Agenda 2063, is that 'African unity is over their dead bodies!'"

He further called on the youth to break all borders dividing Africa.