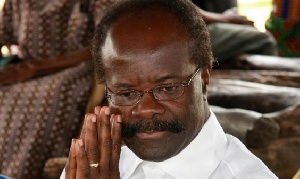 Divine Nkrumah has appealed to Ghanaians to pray fervently for Dr. Papa Kwesi Nduom presidential candidate of the Progressive People's Party (PPP), over his disqualification by the Electoral Commission (EC).
The National Youth Coordinator of the PPP says sometimes he [Divine] is unable to sleep because of the shock he usually encounters following the unlawful disqualification of the business magnate.

He said, if I [Divine Nkrumah] can feel the shock and anxiety considering the investment made into the election by my party, how much more the founder, leader and flagbearer of the party? He is currently going through a lot and I want Ghanaians to pray fervently for him.
Dr Nduom was disqualified from contesting in the December elections because he failed to provide the required number of subscribers for nomination. He filed a suit at the Accra High Court challenging his disqualification.

The suit has Dr. Papa Kwesi Nduom as the exparte applicant, Charlotte Osei, the EC Chairperson, as the first respondent, and the EC as the second respondent. The court will on Friday October 28, 2016 rule on the case.