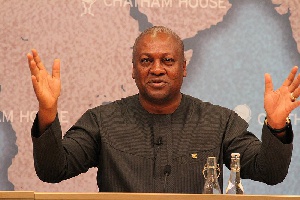 All is set for Former President John Mahama to chalk a landslide victory at the party's Presidential primaries in November this year after his supporters chalked massive victories in last weekend's NDC Constituency elections held nationwide.
Some incumbents lost their positions while others retained theirs in the process. With the exception of a handful of cases, the contest was largely between Mahama's supporters, creating a win-win situation for the Former President.

As a result, both the winners and the losers are his supporters. This situation has not come as a surprise to many because of the clamour for him to lead the party into the general elections in 2020.

Supporters of aspiring flagbearers, Sylvester Mensah, Alban Bagbin and Joshua Alabi were virtually non-existent in the elections while a handful of candidates who campaigned with the name of Rawlings lost to the pro-Mahama candidates making the contest virtually a one-horse race.

The result of the election in Tema Central and Tema West, Okaikoi North, Builsa South, Ayawaso East and Ayawaso North, Ho Central and Kwadaso constituencies which churned out between 99% and 100% pro-Mahama persons as the new constituency executives were replicated nationwide in all the constituencies the election was held.

The election in the Tema East Constituency will be completed tomorrow while that of some constituencies such as La-Dadekotopon has been put on hold.
Interestingly, these results are being churned out though the Former President has not campaigned unlike Alabi, Sylvester Mensah and Alban Bagbin.

He has, since the December 2016 polls, limited his public appearances to a handful of social gatherings, the NDC unity walks as well as the programmes the party has held.



Calls for the Former President to lead the party into the 2020 elections has been growing in recent times compelling him to finally announce he would heed to the request of the supporters when the time comes.