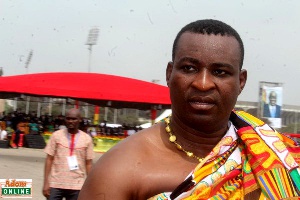 The Ashanti Regional Chairman of the New Patriotic Party, Mr. Bernard Antwi-Boasiako, has praised Prof. Kwesi Botchwey and his team for coming out with a report that explains factors that led to the defeat of the National Democratic Congress (NDC) during last year's elections.
Mr. Antwi-Boasiako however fears the current crop of "unrepentant" NDC leaders would not attach any form of seriousness to the document which numbers over 455-page.

Considering the volume of the report, Mr. Antwi-Boasiako also known as Chairman Wontumi noted that "You don't expect executives who are constantly at loggerheads like Kofi Portuphy, Aseidu Nketia and Kofi Adams to read the report. The report is likely to end up in a dustbin since most of the executives are not interested in it".

He continued that "Prof. Kwesi Botchwey and his team have embarked on a fruitless exercise. No on in the NDC would listen to them because the same set of leaders that caused their defeat are still at post. The committe has played a vital role but the saga would end up being a circus".

According to Antwi-Boasiako, until the party NDC is exorcised from "corruption" , they would struggle to cross 1 million votes in future general elections.

Speaking to Peacefmonline.com, Chairman Wontumi stressed that the previous NDC adminstration led by ex-president John Mahama, made corruption look like a legit act and that contributed heavily to their defeat.

He therefore challenged Prof. Kwesi Botchwey to include the disastrous role former President Mahama played in the party's defeat.to his report and shame him for misleading the party.
"Ghana under Mahama was a failed state. He and his cronies who were incharge made corruption look legit, forgetting that Ghanaians were waiting to punish him severely in the elections.

If you should ask my opinion on why they lost the elections, I will say the leaders of the NDC didn't treat their founder with respect. They pushed him out from the party and made his wife feel terrible as well.

Ghanaians also wanted them out to know the circumstances under which our late former president Prof. Mills died. It was a mystery to be solved and lastly, Ghana under the Mahama led government killed our economy. A lot of business folded up and unemployment rate kept soaring high", he said.

The 13-member Kwesi Botchwey committee has presented a 455-page report to the party's executives and charged them to "listen to the voice of the grassroots."

The committee has also recommended that it was time for the party to find means of collating its own results from the polling stations to the top 'independently'.

The report, titled, 'listening to the grassroots', said the NDC must take urgent steps to restore the integrity of the register and advises that it was important for "elders and eminent people go round to sooth people and calm tempers to restore an environment of trust and unity in the party so as to create the foundation for the party's restructuring."