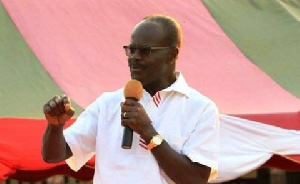 Progressive People's Party (PPP) presidential hopeful for the December 7 polls, Dr. Papa Kwesi Nduom, has asked the people of Western Region to propagate the party's message of hope to eligible Ghanaian voters.
While calling on the people of Western Region to voted for the PPP, Dr. Nduom entreated them to reject the ruling National Democratic congress (NDC) and the New Patriotic Party (NPP) in the this year's polls.

The PPP presidential nominee was speaking at a press conference organised by the Western Regional branch of the party in Takoradi on Tuesday, November 15, 2016 as part of his campaign tour in the region.

According to Dr. Nduom, both the NDC and the NPP have taken the people of Western Region for granted for far too long.

He could not understand why a region like Western Region which contributes a lot to the country's economy will have a huge deficit in infrastructure development.

"This region has natural power [resources] and human resources, intelligent people come from here yet the region has been taken for granted for years. If a chunk of the country's wealth comes from here why will politicians want to pay you back with poverty and bad roads?" he quizzed.
…It's time to show your anger and frustration through your votes ?on December 7. Mahama can't come back and say he wants four more years because politically he's been there for almost 8 years," he said.

Dr. Nduom recounted how President John Dramani Mahama and the late President John Evans Fiifi Atta Mills in 2008 assured the chiefs and people of the Western Region of 10% of the oil money when voted into power "only to do a U-turn and say the resource is for all Ghanaians."

He added: "This region has nothing to show for its oil resource as it is in the case of Akwatia and Obuasi in the Eastern and Ashanti Regions respectively."

"The benefits of oil and gas should start from where it's being produced. This place must be developed first. We must beautify this place before any other parts of Ghana enjoy as it has been done in Johannesburg in South Africa," Dr. Nduom stressed.

He promised in this regard jobs in the petrochemical industry for the people in the region as it has been done in South Korea with a first-class international airport.
"It is time for change, not just any change but a change that will bring the PPP to power so its men and women who are professionals will work for a new Ghana," the PPP flag-bearer noted.

He assured that if he is elected as president, he will ensure that all the oil companies whose headquarters are sited in Accra are encouraged to move to the Western Region including the Ghana National Petroleum Corporation (GNPC).

Furthermore, Dr. Nduom used the occasion to commend the party's supporters for being disciplined and law-abiding unlike the NDC and the NPP.

"Our peaceful nature makes us unique. Leadership has nothing to do with muscle strength," he said.