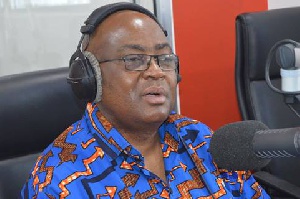 Renowned Pollster and Editor of the Daily Dispatch Newspaper Ben Ephson has challenged NDC parliamentary candidate of the Weija-Gbawe constituency to prove him wrong by clinching the seat from the NPP in the upcoming elections.
Mr. Ephson in a broadcast on GhOne on Sunday and a subsequent publication in his Daily Dispatch on Monday painted a glum picture of Ms. Obuobia Darko-Opoku's chances of beating Mrs. Tina Mensah in the Weija—Gbawe parliamentary contest, predicting that she will lose.

But in a statement issued on Monday, Ms. Darko-Opoku called for calm among her supporters, assuring them that she is unfazed by the veteran journalist's statistically inept prediction.

However, Mr. Ephson who wrongly predicted that Ms. Darko-Opoku would win the 2012 elections for Weija-Gbawe on the ticket of the NDC stated that his analysis for the constituency is based on solid research.

According to him, Ms. Darko-Opoku has a lot of work to do to clinch the seat from the NPP.
"She should prove me wrong," Mr. Ephson told Starrfmonline.com in an interview.

He added: "I have done my work and I have the results, yes, I predicted in 2012 that she would win but even though she didn't win the seat, the President had more votes in that constituency so it couldn't be that my prediction was entirely wrong.

"It had more to do with the person...I have predicted she would lose the seat to Tina Mensah but she should prove me wrong by winning."