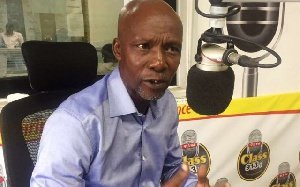 The use of uncouth language by public officials started from the governance of former President Jerry John Rawlings and gradually gained roots over the years, Joseph Roberts-Mensah, Head of Strategic Communication, UN Mission in South Sudan, has said.
The veteran broadcaster who was reacting to ill statements by resigned Deputy Minister of Agriculture, William Quaittoo, wants government to set high standards and ensure that officials abide by those procedures.

Speaking in an interview with Moro Awudu on Class FM's Executive Breakfast Show on Wednesday, August 30, the Africa Director for Wayamo Foundation did not excuse Ex-President Rawlings from blame, saying he was one of the leaders who should have laid a better foundation for others to follow.

He accused former President Rawlings of using words like "dzimakpla", a derogatory word in Ewe against his political opponents during public speeches.

"I think that the bad [communication] habit was started by the NDC government. Actually, not by the NDC government as in President John Evans Attah Mills and President John Mahama; it was informed by the final days, if you will, of the republic under President Jerry John Rawlings.

"President Jerry John Rawlings informed that kind of language. All those words, they came out of President Rawlings' mouth. They informed speech thereafter and informed what was permitted by government officials because the president himself was using the words and if the president of the republic doesn't have a standard then why would his minions, servants, lieutenants, have a standard and then the habit is built up over a period of time and then you think you are upset now today when everybody is communicating in that form?" he question.

He accused public officials of failing to learn best international standards, but rather choose to go on radio ranting just to please some people.
"You don't have the wit to learn language that could be sarcastic, ironical and say the same things and not insult. You don't even want to learn," he lamented.

He cited an example of Sean Spicer, former White House Press Secretary, who had the hardest job of defending US President Donald Trump each time crisis reared its head. "… Yet, as ruffled as it could get sometimes, was there always not a limit as to what he could say? How many times did he lose his patience? Once or twice but as a general theme he never got to the point where he was directly fighting people [verbally]," he said.

He cited another example of the UN PRO who had to speak for the international organization due to crisis all over the world in response to very aggressive journalists in New York and other places, but did not resort to insults.

He encouraged politicians "to learn" and desist from "insulting people's intelligence".

"Don't come and make certain statements just simply because you need to show how tough you are and all that. We are running a nation; you are not part of the chaff and all that which goes on. You are the government and we hold you to a higher standard of performance…You don't come back and insult me because I don't like what you are saying. For goodness sake, I pay you to hear what I am saying and deliver on what you promised," he added.