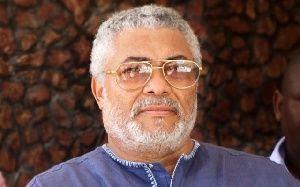 Former President and founder of the National Democratic Congress (NDC), Jerry John Rawlings who turned 70 yesterday June 22, 2017 is not thinking straight about issues within the party because of old age and must therefore be pardoned, a communicator has said.
"I prefer that sometimes we treat a lot of his statements with kid gloves. The founder will always talk and attack the party but you should be able to weigh his age in context of what he says ", the party communicator in the Ashanti Region, Mallam Issah appealed to colleague NDC communicators on Ultimate FM's Factfile.

"My landlady will finish taking her porridge and in one hour time she will tell you since morning she has not eaten. I do not know if you get the drift here "he buttressed it during panel discussion on the show.

"I studied biology and we should be compromising a lot not to be too critical at him probably at this age of being in his andropausal stage".

"At this point in time if everything done in the party should be hinged on the former President then NDC has no future. …definitely we should be people who can be equal to the task", he reiterated.
Mallam Issah revealed his intent to contest branch executive position if the party opens nomination in order to help re-organize members at polling station levels.

Commenting on the 445-page recommendations, he said NDC could have retained political power if proper organizations were done at all levels of the party particularly at the branches.

He therefore called for all hands on deck for effective implementation of the 455-page report containing the circumstances that led to the hefty lost of the party in the 2016 polls.