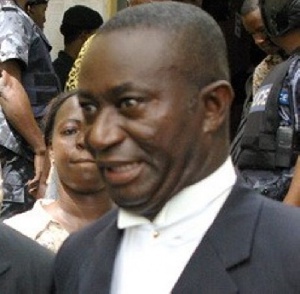 Mon, 24 Oct 2016 Source: Daniel Oppong
Alhaji Sulemana the campaign manager for lawyer Andy Appiah-Kubi the Parliamentary candidate for the NPP has debunked the story purported to have happened on the 21st of October 2016 at the Agogo Community Centre in the Asante Akyem North Constituency during a program organized by the NCCE which was pasted on Ghana web ''Andy Appiah-Kubi exposed".
He said, the story is totally false, lies, unfounded and untrue. The story alleged that Andy Appiah-Kubi called for his supporters to cause mayhem at the grounds of the said program.

The campaign manager asked "How can a candidate who wants to win the upcoming election failed to use the occasion to explain his vision to the people but rather caused mayhem as suggested by the story?"

The story further alleged that lawyer Andy Appiah-Kubi did say that, the MP of the area Kwadwo Baah Agyeman has misappropriated health insurance funds allocated to the communities.

According to the campaign manager Andy Appiah-Kubi never said that but rather explained how he will use the fund if voted into power to the benefit of the aged and the under 18years of age as the fund demand by law.

The story further noted that Rev Father Adusei Poku of the Catholic Church wanted to intervene to stop the PC from walking away from the community centre unceremoniously after he has caused the mayhem.

"The PC never walked from the program unceremoniously for which will called for the Rev father to intervene."
Alhaji sulemana has advised the MP who he suggested is behind the publication to desist from such act.

Alhaji Sulemana rhetorically asked "Are you the only person who has lost his seat? Stop defaming the PC and the party that has made you who you are now.

The campaign manager re-called on several occasions where the MP has openly campaigned against the PC for the reason that, he has only been to parliament for just one term and that the party has truncated his term of office as MP.

During the Agogoman mma kuo harvest ceremony to help build the Police station for the District, the MP campaigned for the NDC candidate which the central regional chairman of the NPP chairman Kuttin was a chairperson for that occasion, and at a launch of the New Party office in the constituency as well as to start kick the campaign on that same day the MP disrespectfully ignored Andy Appiah-Kubi before the Regional and National executives who were with Nana Addo at the Launch.

It took the Asante regional chairman of NPP Wuntumi to force Kwadwo Baah Agyeman to introduce the PC after which the party advised him which he has failed to heed to the advice . This time around we will not sit down for him to destroy the party and the PC, Alhaji Sulemana said.
Source: Daniel Oppong