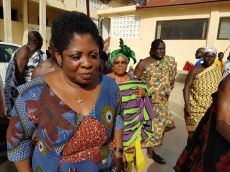 A member of the National Council of the opposition New Patriotic Party, Mrs. Janet Anane, has observed that victory for the party in the December 7 elections, would revive the Offices of the First and Second Lady to play a lead role of women development and empowerment.
According to her, the offices of the respective ladies are currently in a mess, stressing that both Mrs. Lordina Mahama and Mrs. Amissah Arthur have failed to live up to expectations in making their positions very significant to the public like it used to be under Mrs. Rawlings and Mrs. Theresa Kufuor.

"Mrs. Rebecca Akufo Addo and Samira Bawumia are coming to clean the mess of Lordina and Mrs. Amissah Arthur and bring dignity and respect to the offices of the First and Second Lady," she said.

Speaking to identifiable women groups championing the cause of the NPP in Kumasi, Mrs. Anane, who is a financier of the party observed that the offices of the first and second lady goes beyond engaging in donations and accompanying husbands to public occasions; but must be seen as an avenue to champion the cause of women and other vulnerable groups in the society.
"At the moment both offices are dull and dormant but let the NPP win this year's elections and see how we shall revive those offices and make them effective again" she said, adding that both Mrs. Rebecca and Samira are women with competence who will revive and reinvigorate the position.

She further observed that unlike Mrs. Lordina Mahama who has turned her office into a campaign machinery, sharing cash and items with objective of winning votes, an NPP regime will strengthen the office and introduce a paradigm shift in the way both first and second ladies perform their roles.