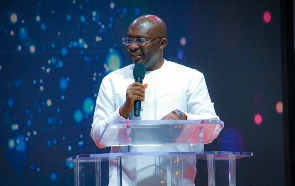 Sat, 4 Mar 2023 Source: GNA
Vice President, Dr Mahamudu Bawumia, has lauded the deep religious tolerance in the country, describing it as an enviable gift from God.
He said Ghanaians are noted all over the world for leaving peacefully with one another irrespective of one's religious or ethnic beliefs and this had made the country a peaceful nation cherished by many.

Addressing a durbar in Kumasi to commission the newly refurbished Ashanti Regional Central Mosque (Kumasi Central Mosque) at Asawase, Dr Bawumia, praised the Asantehene, Otumfuo Osei Tutu II and the forefathers of Asanteman for accepting and granting various tribes and religions spaces and places to live and worship.

The renovation works were solely funded by Dr Bawumia in fulfilment of a promise he made to Allah and the Muslim community in the Ashanti region in 2020.

The refurbished fully air-conditioned Mosque now has a seating capacity of 7,000 with more than 30 underground washrooms and 100 capacity ablution area.

It also has 11 furnished offices, an Imam and chiefs' office which can seat 40 people, 500 capacity conference hall, a two-bedroom apartment, CCTV cameras and a male and female corpse bathing place.
The Vice President commended the contractors who worked on the project and said Ghanaians were capable of delivering what was the best, giving the opportunity.

He said the Kumasi Central Mosque was one of the oldest Islamic icons in the Ashanti region and urged the Muslim community to ensure the proper maintenance of the facility.

The Asantehene, Otumfuo Osei Tutu II, said the Mosque was one of the inheritances of the Ashanti people and called on the congregants to always keep the facility clean.

He said he was part of the Muslim community and therefore, anything that bothered Muslims bothered him, and would not accept anything that could thwart the relationship between the Manhyia palace and the Muslim community.

Otumfuo Osei Tutu took the opportunity to announce to the Muslim community that, an amount of GHS 280,000.00 which was supposed to be paid as a lease for the land on which the Mosque was built, has been scrapped.
Source: GNA