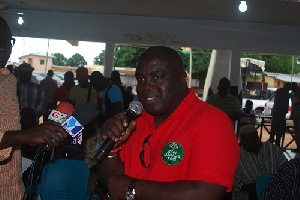 Wed, 9 Nov 2016 Source: Samuel Ablordeppey
The Chief of Staff Julius Debrah is calling on the Chiefs and people of the Eastern region to maintain President Mahama for a second term to accelerate economic empowerment.
He argued that since Ghana went into constitutional governance in 1992 previous administrations have all enjoyed two terms, the reason President Mahama also deserves two terms to bring his vision into fruition.

He pointed out that former Presidents Jerry John Rawlings and John Agyekum Kufuor fulfilled their two terms. "If that is so why are some people trying to scuttle President Mahama's second term bid?

According to him, it would be politically suicidal for the President to be given only one term whiles others enjoyed their full eight years terms.

The Chief of Staff tour of the eastern region is a follow up re election campaign of his boss the commander in chief of the Ghana Armed Forces.

Addressing thr chiefs and imams in Nsawam in the Eastern region, the chief of staff Julius Kwesi Debrah said "President Mahama has laid a golden foundation in infrastructural development which has laid the grounds for a massive economic take off from 2017-2001."
He pointed out that the way and manner the good people of Ghana gave the two previous Presidents two year terms should be the same way President Mahama should be maintained to continue making life better for all.

"Why is it that all of a sudden some people want to curtail the second term bid of President Mahama?"

The Chief of Staff  interacted with chiefs, Imams, opinion leaders, market women etc within the Nsawam municipality.

He said "this opportunity of a second term for JM should not slip by. He appealed to all and sundry to vote and maintain President Mahama for another eight years for a prosperous Ghana.''

The Chief of Staff's entourage comprises of Madam Faustina Nelson, Deputy communications minister Ato Sarpong,  NDC national communication officer Solomon Nkansah, Fred Agbenyo  and lawyer Edudzi Tamaklo.
Source: Samuel Ablordeppey