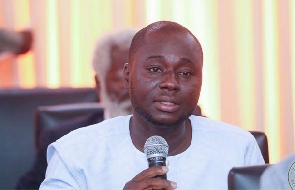 Leading Member of the opposition People's National Convention Atik Mohammed has berated the Communication Team of the ruling government for being totally incompetent in communicating government achievements.
In a statement authored by the former Policy Analyst of the PNC sighted by MyNewsGh.com, he said the ruling party's communicators appear to have no training or strategy to communicate government achievements rather resort to insults and equalization.

"When a government appears to have a lot of unresolved scandals on the table, it does well not to further destroy the appetite of the citizenry by adding unrefined communication to the menu." he said.

"Some people who purport to speak on behalf of government in recent times, in my estimation succeed in destroying further what is left of its goodwill. Aggressive, half- informed and "equalization" communication doesn't cut it in today's political communication." he pointed out.
He added further: "Some of them think the NDC are the only audience they are speaking to, so they must at all times outdo them in the mention of scandals and unimpressive records. Now and this is the thrust of my comment. The voter distribution in Ghana is bimodal. The two modes represent the core support of the NPP and NDC respectively, borne otherwise known as floating voters and other minority parties.

In such a system, the focus of political parties is to move from their core towards the center whenever the marginal benefit of such a movement far exceeds the marginal cost of staying to please the core. What is the point in all of this analysis?

It is simply that, parties in power must recognize that, the target of their policies and messages is not to the core of their parties but to voters in the center who make the difference. And so communicate in such a manner, as to get the support of the middle and not to please your core group or displease the other core. This is because focusing on the "cores" yields a net impact of zero."