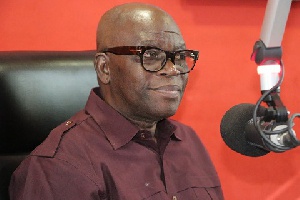 A leading member of the opposition National Democratic Congress (NDC) in the Ashanti Region and one time Ashanti Regional Vice Chairman of the party, Alhaji Sannie Snr. has slammed the ruling New Patriotic Party [NPP] for their "fruitless daily talks".
According to the ace politician on Abusua Nkommo hosted by Kwame Adinkrah, the Akufo-Addo government despite their numerous promises are yet to put the country's economy to a deserving standard.

He made this comment in a reaction to road minister Mr. Amoako Attah's pledge to begin roads construction in the Ashanti Region which has gone unsuccessful within the stipulated time.

The sector minister had promised to begin road construction in the region in October 2017 but has failed to fulfill his pledge.

And Alhaji Sannie believes was a promise made by the sector minister to deceive the good people of Ashanti Region who engineered the NPP's success in the 2016 general polls.

"The road minister has clearly demonstrated to us that we shouldn't take him seriously. What happened to his promise to fix the bad roads in the Ashanti region".
"There hasn't been even a single work done on the Ejisu-Kumasi road where the road minister had said was set to commence within two months".

He, however, advised President Akufo-Addo and his NPP government to be truthful to Ghanaians as far as governing the country is concern and stop blaming the erstwhile Mahama administration for their abysmal performance.

He says "NPP should shut up and fix the broken economy as we are made to believe by President Akufo-Addo, his vice Bawumia and his ministers"

"Akufo-Addo and his people before the 2016 election kept saying there's money in the country, Ghana is not worth being a poor country but what do we see now if you ask me they haven't done anything better to fix the broken economy ".

"Kwame the talking is becoming too much so they should stop making noise and let their action speak that is exactly what Ghanaians want to see".