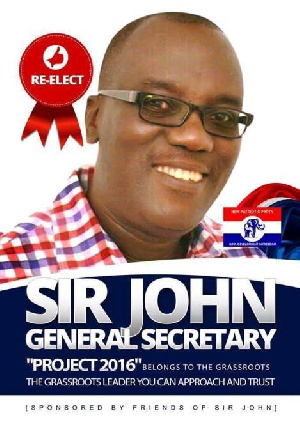 Former General Secretary of the New Patriotic Party (NPP), Lawyer Kwadwo Owusu Afriyie, popularly known as Sir John, has vehemently denied being behind new campaign posters announcing his re-election as General Secretary of the party.
Colourful campaign posters of the former Chief Scribe captioned re-elect Sir John General Secretary 'Project 2016' is making the rounds on various social media platforms in recent times, suggesting the possible comeback of the loquacious former secretary.

What is making the posters gain considerable amount of attention from a section of the public is the fact that the incumbent General Secretary, Kwabena Agyepong, who is a known ally of the suspended National Chairman Paul Afoko, has also had a petition filed with the party calling for his suspension.

Four members of the party namely Chris Arthur, Former TESCON-KNUST President; Adreba Kwaku Abrefa Damoa, London; Kwabena Afum Dankwa, London; and Kwame Baffoe, NPP Regional Youth Organiser, Brong-Ahafo Region per a petition, are calling for Mr Agyepong to be sanctioned for his misconduct.

They claim Mr Agyepong is exhibiting gross misconduct, and engaging in deals tantamount to venality while in his elected position as General Secretary.
He is "still holding out Paul Afoko as the National Chairman contrary to the position of the National Executive Committee". ("Kwabena Agyepong has rubbished, and keeps rubbishing the suspension of Afoko from his chairmanship. This in our view is an act of mischievous contempt for the authority of the Party as a whole, including its elders, its leadership, and its structures.")

Agyepong's "taking unilateral decision as a General Secretary with particular mention of a waiver he gave to some party parliamentary aspirants and the launch of a party card" are some of the charges against the party's Chief Scribe.

However, speaking to Kasapa News, Sir John stated that until he was being interviewed he had absolutely no knowledge of the said posters.

"I've not heard about these posters you're talking about, there is no vacancy at the General Secretary position, if there will be any vacancy in the future I have no idea of that, only God knows the future. So until such a situation occurs, no one should busy him or herself eyeing that position. Our main focus for now should be how the party will remain united and work towards securing victory for Nana Akufo Addo come 2016 elections."