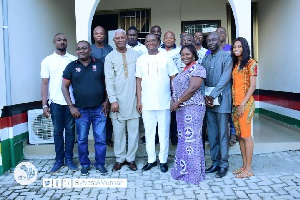 Sun, 25 Nov 2018 Source: Raymond Abban
NDC Flagbearer hopeful, Sylvester Adinam Mensah begun his "Renewed Hope" campaign in the Volta Region on Friday, November 23, 2018.
In a meeting with the Volta Regional executive committee members at the party's regional office in Ho, Sly officially informed them of his tour in the Region and discussed his vision for the party and country with them.

He seized the opportunity to appeal to Regional executives to provide a leveled playing field for all aspirants, as enshrined in the party's constitution, in order to prevent what was witnessed at the just ended national delegates congress, where a campaign song of one of the aspirants was sanctioned and played, deliberately giving undue advantage to one aspirant over the others.

The Regional executives expressed delight in receiving a son of the Region and a member of its finance committee.

They thanked Mr Mensah for some of his contributions in facilitating the work of the party in the region.
Sylvester Mensah maintained that his campaign is not about one's ethnic extraction but more about what gives the party an advantage into the 2020 elections.

He advised the region to focus on the number one slot and not to settle for number two, as that provides greater prospects for the party, the region and country.

TeamSly continues to all the constituencies over the next seven days.
Source: Raymond Abban