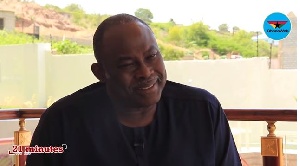 The Coordinator of the 'Spio Garbrah Fan Club,' the campaign wing of the National Democratic Congress (NDC) presidential hopeful, Ekwow Spio-Garbrah, has returned fire once again insisting that the former minister is 'lying' about his ambitions to lead the party in 2020.
"All that he is doing is that he has formed a fundraising committee and is using it to make money under the guise of contesting as NDC flag bearer in 2020 even though he has said publicly that he is not contesting," Isaac Kofi Ahimah, 63, said when he visited DAILY GUIDE on Monday.

The Spio's Coordinator said he had been 'incensed' by what he termed Spio-Garbrah's attempt to disparage him in the media; in seeking to set the records straight.

Mr Spio-Garbrah's team issued a statement over the weekend describing Mr. Ahimah, who was NDC's Secretary in the Akwatia Constituency in the Eastern Region for 18 years, as a renegade who was caught frequently visiting the office of a leading member of a 'rival' campaign team, to solicit for money and accused him also of treachery.

According to Mr. Ahimah, those who signed the statement on behalf of Spio-Garbrah are not part of the Fan Club they formed to promote the presidential aspiration of the former Trade and Industry Minister and said that they were being 'used.'

"I know that boy called Robert Afulimi who claimed to be Campaign Spokesman for Spio-Garbrah. He works for one of Spio-Garbrah's publication outlets," he fired.
"We registered the Fan Club to support Spio-Garbrah. I have been with him for the last five years, and we have a 'Forward Agenda' council comprising sub-committee chairpersons and myself as the National Coordinator. He cannot singlehandedly suspend me as he has purported," he stated.

Mr. Ahimah said "what triggered the whole action was that the chairman of the communication sub-committee resigned and Spio-Garbrah, without recourse to council, appointed another person and when I raised issues about his approach he said he had suspended me."

Mr. Ahimah said his only crime was that alongside Naziru (Spio's aide), they had visited former Chief of Staff, Julius Debrah, and because of the visit, Spio-Garbrah accused him of collecting money from Mr. Debrah.

"He created the impression that there was a committee that investigated and suspended me. I am using your medium to say that there is no such committee. He is running a one-man show," he charged.

He said he even facilitated a meeting for Mr Spio-Garbrah with former President Mahama through Mr. Debrah where the former minister allegedly reiterated that he was no longer interested in the NDC flagbearership once the ex-President wants to contest again.
Mr. Ahimah further claimed that the former minister's track record as someone "who is capable of setting confusion in the party" is public knowledge, saying "look at how he treated Professor Mills. When he was not given any position in the government, did you see how he called them names? When President Mahama appointed him did you hear him criticize the President?"

He said "Spio-Garbrah started his presidential moves when NDC was in power but since the party's defeat, there has not been a single organizational work in which he is fully involved, although he is raising funds.

"I'm challenging him to come out and deny if he has not formed a fundraising team that is going round to look for money for him. I am also challenging him to deny if he did not say in Aflao that he was withdrawing from the race to throw his weight behind ex-President Mahama."

"I don't want to engage in personality attacks as he has done to me in the statement he caused to be issued. He has called me names which cannot be true. He should know where I am coming from. He knows I know too much about what he has been doing behind the scenes as far as his presidential ambition is concerned."

He added that "very soon we are going to hold a news conference and dissolve the fan club and go ahead to support the flag bearer that Spio said we should all support during the Aflao Unity Walk."