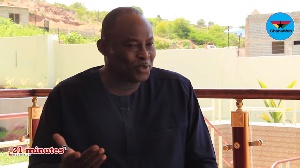 A serious war of words has ensued between presidential aspirant of the National Democratic Congress (NDC), Ekwow Spio-Garbrah and his campaign coordinator over the former minister's presidential ambition.
Isaac Kofi Ahimah, 63, who is the Campaign Coordinator of the 'Spio Garbrah Fun Club,' was reportedly fired by Ekwow Spio-Garbrah through a text message due to 'misbehaviour.'

But the NDC activist is fighting back, accusing his boss of not taking his campaign seriously.

Cynical Claim

He claimed the former Trade and Industry Minister was interested in using the NDC to enrich himself.

"It has come to our notice that Dr. Ekwow Spio-Garbrah is posting his contributions to NDC on some platforms and also asking for help towards his agenda to become the flagbearer for our dear party, the NDC. We want to reject his words because he is not serious. Spio thinks he is the smartest person in NDC, trying to use the party to mobilize funds for himself," Mr. Ahimah fired.

He claimed "He (Spio) has no intention to contest the NDC primaries as he has already thrown his support behind former President Mahama so he could be considered as a running mate which he will not get."
"A serious candidate will support the reorganization process, particularly the election of constituency and regional officers of the NDC."

Aflao Declaration

Mr. Ahimah alleged that during the NDC's Unity Walk in Aflao in the Volta Region, Dr. Spio-Garbrah said publicly that he was withdrawing from the NDC flagbearership race to back former President Mahama.

"He cannot therefore turn around to create the impression that he is still in the race.

"If you can remember, he said at Aflao at our last Unity Walk platform that we should all support JDM to win power back for us in 2020. I believe all of you heard it. So how can the same person turn round to say he will contest JDM," he said, adding "Let us forget him and concentrate on the reorganization of our dear party and look for serious and better candidate as he himself recommended to us at Aflao."

"He said he has contributed to the party a lot and so what? Dr. Spio Garbrah has enjoyed the fruits of NDC than any other member I know from JJ. Rawlings' government to John Mahama's government, so what is he talking about?" He queried.
He continued "Does he know how some of you have contributed towards the party at the grassroots, constituency, regional and national without getting any appointment so what does he take us for? I will say he should stop insulting us and leave us alone. As national coordinator for the Spio Garbrah Fun Club, I am aware that he is collecting huge sums of money from businessmen and pocketing them by deceiving them that he is contesting for the flagbearership position."

He said that "Dr Spio-Garbrah is deceiving some people that John Mahama told him he would not contest and that he (JM) will support him to win," adding "that is just how Spio is defrauding businessmen all over the country and outside."

"While the party is looking for funds to organize regional and national congress, Spio is going round collecting them for himself. Comrades, let us support the reorganization of our party to win back power in 2020."

DAILY GUIDE's attempt to contact Spio was unsuccessful as he was said to have travelled overseas for personal engagements.