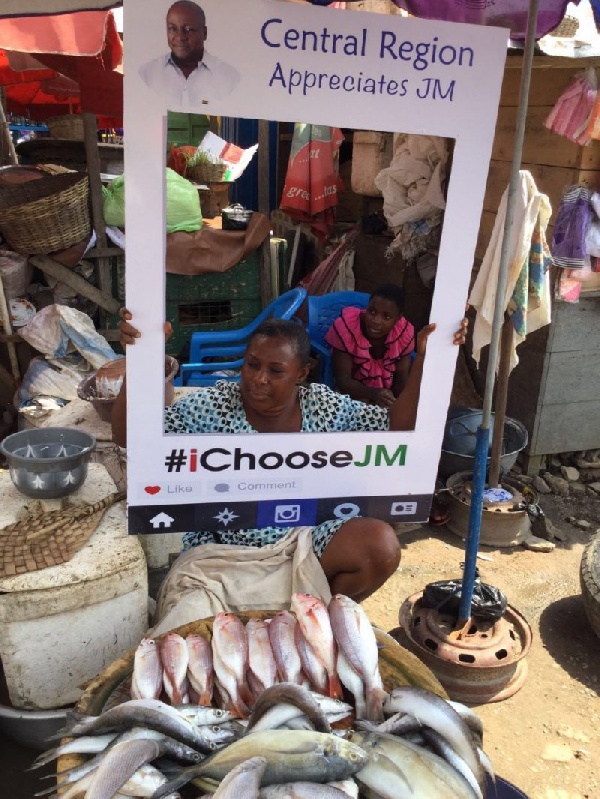 After a hugely successful campaign tour in the Central Region, we the Organisers of #iChooseJM express our profound gratitude to the Almighty Allah, Regional Executives of the National Democratic Congress (NDC), Members of Parliament, Constituency Executives and the teaming youth in the region.
We thank Chairman Allotey Jacobs and his lieutenants in the Central Region, for their support, understanding and directions.

We thank Hon Maame Pokuaa Sawyer, MP for Agona East and Deputy Regional Minister, for her selfless commitment towards securing a landslide victory for President John Mahama.

We are confident that with God's help, another "World Bank" will be created in the Central Region.

We further appreciate the Parliamentary Candidate for the Efutu Constituency, Hon Eric Don Arthur and pray that the people of Winneba and its surrounding communities will once again vote for President John Mahama and vote Him, (Eric) to Parliament.
We are still reminiscing the huge outpouring of excitement and support, especially by the youth in the Region.

We are convinced that the youth who jumped unto the streets wherever the #iChooseJM Campaign visited are the real soldiers who will deliver another resounding victory for President John Mahama. We love the spirit of these youth who have hope in President John Mahama and went round with us in the communities to the campaign. To them, we say, "Mbo Na Ewduma".

Signed #iChooseJM