Politics Fri, 11 May 2018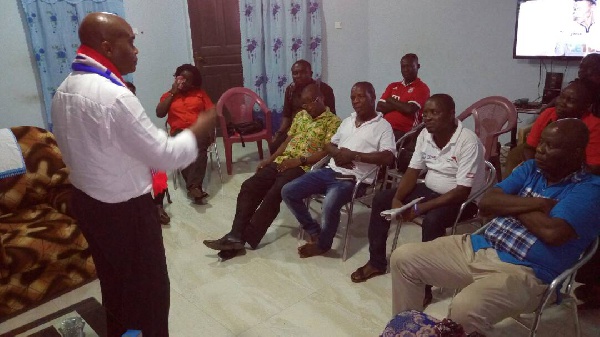 The campaign team of Mr. Stephen Ayesu Ntim, an aspiring national chairman of the governing New Patriotic Party (NPP) is in the Western Region primarily to campaign ahead of the party's national delegates congress.
The team, made up of the candidate, his Chief of Staff Papa Nii, Charles Akoto Kufuor, the Western Regional Coordinator among other members on Thursday touched base with Wassa East Constituency, Shama, Mpohor, Ahanta West and subsequently the five Constituencies in the Sekondi Takoradi Metropolitan Area thus Sekondi, Essikado -Ketan, Effia, Kwesimintsim, and Takoradi.

Throughout the campaign, it was just one message the delegates had for the team.

"Our mission is to reward loyalty and commitment. The candidate has been loyal to the NPP, that is why we are all saying the time is up for him to lead us. He has what it takes and the experience to deliver good results"

Addressing the delegates who are the core executive manning the various constituencies, the aspirant touted his commitment to serve, as the only driving force motivating him to want to lead the biggest political party in the country.

According to Stephen Ayesu Ntim, despite suffering painful defeats in the last three contests, he has not given up.

"I will not give up, until you make me the national chairman of our party and see what I will bring on board," he said jokingly to attract rapturous applause from the delegates.
He explained that although he lost in all previous contests, he never distanced himself from party activities and genuinely offered all the elected national leadership right from Mac Manu in 2005, Jake Otanka Obetsebi Lamtey in 2010, and Paul Affoko of 2014.

Under the circumstance, he said no one in the current race has demonstrated more than him, true loyalty and dedicated commitment to the survival, development, promotion and growth of the NPP.

The team on Friday journeyed to Nzema areas to meet delegates from the three Nzema Constituencies thus Evalue-Ajomoro-Gwira, Ellembelle, and Jomoro.

According to the Western Regional Coordinator, they will also touch base with some of the mining areas around the Tarkwa enclave and later proceeded to the middle belt of the region.

The Sefwi areas, he noted will be done as the final episode of the campaign in the Western Region and on Tuesday, the candidate will be in Accra to submit his nomination forms at the party's headquarters.
Source: Fred Atsiku