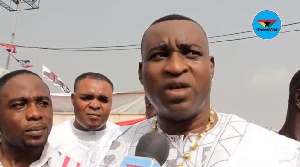 The Ashanti Regional Chairman of the New Patriotic Party, says the 'Speak Out' tour being embarked upon by former President Mahama has produced several lies than truth and has blamed the trend, on the "abuse of cheap cognac" by the entire team.
Mr. Bernard Antwi-Boasiako in an interview with ghbeyondpolitics.com stated that he has in his possession an audio recording of Mr. Mahama declaring that he will "cancel free SHS" if voted into office.

He has therefore thrown a challenge to the entire NDC team on the tour to "stop abusing cheap cognac and focus of telling Ghanaians the policies they have".

According to the NPP Chairman popularly referred to as Chairman Wontumi, the free Senior High School policy implemented by President Akufo-Addo has rattled "the political foundation of John Mahama and the NDC" and for that reason, they were always "speaking negatively about it".

He explained that former President Mahama and the NDC have made it a case to always attack the double-track system which is helping the free SHS structure to be a success.

In his view, parents and students are happy with the system and wouldn't hail the NDC even if the party and their leader choose to denigrate the policy during their Speak Out tour.
"You claim to be on a Speak Out tour but you are rather fixated on attacking good policies implemented by Akufo-Addo. And instead of hailing him you choose to disrespect him. What at all did you do for the educational sector when you were President? I am forced to believe that you and your team are having fun with alcohol on your road trip instead of gathering views to help your campaign", he said.

He ended by stating that if the double-track system that comes with free SHS policy wasn't a good thing, a country like Kenya wouldn't even seek Ghana's help in their educational sector.

It will be recalled that the Government of Kenya is seeking Ghana's expertise to help it to implement a double-track educational system as part of its educational reforms.

A letter signed by the Kenyan Cabinet Secretary, Professor H.O. Mahoga, CBS and addressed to Ghana's Minister of Education, Dr. Matthew Opoku Prempeh, and copied to the Kenyan Principal Secretary of State Department for Early Learning and Basic Education, applauded Ghana for successful robust educational reforms.