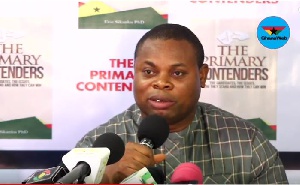 General Secretary of the People's Progressive Party (PPP), Murtala Mohammed says the focus of the Electoral Commission (EC) is not the cost involved in compiling a new voters' register but rather the success of the 2020 general elections.
According to him, the Electoral Commission (EC) will be held responsible should something go wrong with the elections.

Addressing the cost-concern raised by IMANI Ghana, the PPP General Secretary on Okay FM's 'Ade Akye Abia' Morning Show said that the policy think-tank should not compare the machines that the EC intends to buy, as the models and the specifications of the machines differ.

He added that the prices of the machines may not be the same as IMANI Ghana intends to compare the prices of the new machines to those that Kenya and Nigeria used in their elections respectively; adding that IMANI Ghana does not know the specification of the machines that Ghana is going to buy.
"Ask IMANI which one we should buy? They will not able to tell you. They are comparing the cost with that in Kenya but the price will differ depending on the model and specifications of the machines . . . does IMANI know the specification of the machines Ghana is going to buy? They are just making conjecture and speculation, they don't know," he argued.

According to him, IMANI is now talking about procurement breaches and when asked they mention evaluation, "but there have been changes in the evaluation and the process went successfully so what is the breach now?"

He, however, mentioned that IMANI Ghana is now a lone ranger in its persistent fight against the purchase of new machines as the other Civil Society Groups that used to support IMANI have backed down after reading letters from the manufacturers that they cannot upgrade their old machines; hence, the need to get new ones.