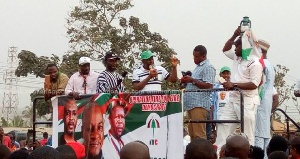 Flagbearer hopeful of the National Democratic Congress Alban Bagbin has urged party members to remain calm as the re strategize for 2020 elections.
He also urged all members to bury their differences to support anyone who is selected to lead the NDC in the 2020 general elections.

"The problems challenging Ghana, the problems challenging the NDC, the problems challenging the Asawase constituency are not for the faint-hearted. We need bold, courageous leadership to be able to solve the problems. What we are doing now in trying to reorganize the party is a family matter. We want everybody onboard. We want everybody to show love and loyalty to the NDC."

"Competition is the spirit of democracy and so wherever there is competition, it's a show of how competent or how better you are than your opponent. It is not a time for war; it is not a time for insults. This is the time you have to show commitment to the vision. And so whatever is happening in NDC should not discourage any persons, it's a family contest. And I'm assuring you that whoever is elected the parliamentary candidate, the presidential candidate, we all have to give our 100% support to that person," he added.


Mr Bagbin advised the party members during a mini rally held at Asawase in the Ashanti Region on Saturday 03/02/18.

He encouraged members to be united and rally behind the vision of the NDC to enable them regain power from the governing New Patriotic Party in the next election.