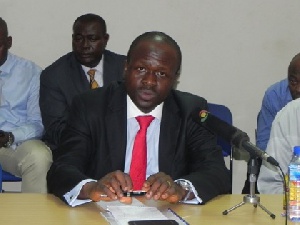 Communications Minister, Dr. Omane Boamah says the suspended National Chairman of the New Patriotic Party(NPP) ought to kill his hopes of ever taking the rightful place in the Dankwa-Busia-Dombo tradition as the National Chairman of the party.
He said per the NPP's manifesto launched last weekend it is clear in the subconscious of the elephant family that Mr. Afoko is history in the helms of affairs of the NPP.

Mr Afoko was suspended by the National Executive Committee (NEC) of the NPP for allegedly working to undermine the party's chances of winning the December 7 elections.

He challenged the legality of his suspension but the Human Rights Court in Accra upheld the NEC's decision to suspend him.

He has appealed against the ruling.
But Mr. Omane Boamah said from the scheme of things within the opposition NPP, it's obvious Afoko's reign has been toppled for good and must be advised.

"Let me say that per the manifesto of the NPP, I'm saying Paul Afoko is no longer chairman of the NPP. Do you know why I say so? Take the manifesto, the remarks by Mr. Freddy Blay that they call their Acting Chairman, they wrote chairman for Blay.

"That exposes what they have in their subconscious that Mr. Paul Afoko is history in terms of ever becoming chairman of their political party," he said on Radio Gold's Alhaji and Alhaji Saturday.