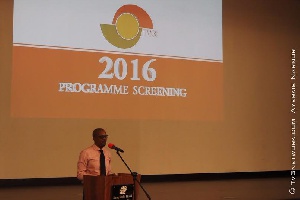 Wed, 13 Apr 2016 Source: Charles Addo/GhanaWeb
TV3 Network, Ghana's credible broadcaster has hinted that it is poised to bring to its viewers a comprehensive election report from all the ten regions of Ghana in upcoming November polls.
According to management, more than 100 credible and experienced journalists are warming-up to retain the station´s election headquarters status with unveiling of several new programmes in its 2016 lineup towards the elections.

Beginning April, as part of the station's offerings, TV3 would introduce election related programming including 'Eye on the Seat' and "Constituency Link", as well as "The Key Point".

The Chief Executive of TV3 Network, Ray Nkure, at the station's 2016 Programme Screening in Accra said, to cater for its clients, the station had undertaken a research to identify its key audience, as well as which segments to engage them at what time.

"As part of its election strategy, the Network would deploy the largest news crew across the country to cover the elections related activities, report breaking stories as they happen and develop stories that reflect the real situations in communities in its news bulletin." Mr Nkure said.

He noted that the station is employing more sophistication in its approach to business by using analytics from research undertaken and a greater focus on delivering quality content and resonance, as reflected in its lineup of programmes for 2016.

The research, he said, showed that its core target audience are people within the age bracket of 16 to 34, representing about 70 per cent of the population and 82 per cent of people who watch prime time TV (55 per cent of these are female), while the secondary target are those in 35 to 50 years, who constituted 85 per cent of its News bulletin audience.
There were also specific content to cater for audience from 16 and 20 years, who mainly watch television during the Access Prime time from 16:00 to 18:00 hours.

Mr Nkure noted that findings from its research underpinned the programmes and is reflected in its choice of presenters and the themes and characters of the dramas in the lineup.

He said while there are new programmes, existing ones which were successful, such as Ghana's Most Beautiful and Talented Kids would be enhanced.

He also announced that the addition of four new radio stations: 3FM-92.7, Onua FM-95.1, Connect FM-97.1 and Akoma FM- 87.9 to the MG group is very strategic for its advertisers as it allow MG to tailor-make certain offerings and use economies of scale such as giving them both radio and TV slots.

Click photos to see more..
Source: Charles Addo/GhanaWeb