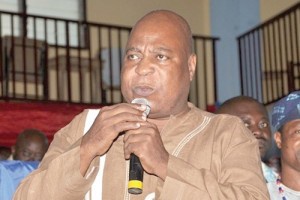 Greater Accra Regional Minister-designate Ishmael Ashitey has refuted allegations that he is rooting for a supposed relative named Ben Ashitey for the Metropolitan Chief Executive (MCE) position at Tema.
Some angry members of the governing New Patriotic Party (NPP) in the Tema East constituency besieged the home of the Greater Accra regional chairman of the party to protest against what they said was his total bias in the selection of candidates. He is accused of planting his favourites in district and municipal chief executive positions in almost all parts of the region.

He has been accused of fixing his regional executives at some assemblies including Tema, Ashaiman, and Accra.

Responding to the issue on Monday, February 13, the chairman explained that it was the prerogative of the president and, therefore, "wrong for someone to say that I am putting somebody on them".

He continued: "The person that they are talking of has the same name [as me] but one unfortunate thing that these people are not telling anybody is that the man is nowhere near my relative."
He said he hails from Amokotse We in Tema while the MCE aspirant is native to Kakabaah We.

"These are two separate and distinct families. So he has no relationship whatsoever with me," he added.

He explained that "he cannot put any names forward and about 14 people applied with Ben Ashitey being one of the aspirants".

He maintained that there was no truth in the accusations that he was interfering with the nomination process.