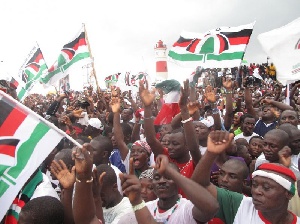 Wed, 9 Nov 2016 Source: Today Newspaper
Today can report that there is tension brewing in the ruling National Democratic Congress (NDC) in twenty six constituencies in the Volta Region as a result of the dismissal of its eleven (11) members.
The eleven were dismissed on grounds of going independent in December 7 polls after losing their respective parliamentary primaries.

According to sources in the Volta Region, majority of supporters of the NDC in the North Tongu, Ziope Agortime, Akan, Ketu South, Akatsi South, Buem, North Dayi, Krachi West, Ho Central, Nkwanta North are dissatisfied with the decision of the party's National Executive Committee (NEC).

They fumed that the NEC directive will cause a huge defeat to President John Dramani Mahama in the Volta Region which is considered the "electoral World Bank of the (NDC)."

It would be recalled that the governing NDC sanctioned 23 members of the party for contesting as independent parliamentary aspirants in the December 7 elections, and subsequently sacked them from the party.
According to the General Secretary of the NDC, Mr. Johnson Asiedu Nketia, such persons breached articles 8 (d, f); 45 (a, b, c & e) and 46 (10) of the party's constitution,"…and that these persons by their conduct and on their own volition have ceased to be members of the party."

The NDC party further added that its executive members who endorsed the nomination forms of the independent parliamentary candidates also cease to be members of the NDC pursuant to articles 45 and 46 of the party's constitution.

Speaking to Today in an interview, the supporters expressed worry over the manner in which the party governing body-NEC- handled the whole issue.

They indicated that although they initially planned to vote "skirt-and-blouse," they are no more going to do that rather they will vote against both the NDC's presidential and parliamentary candidates.
Source: Today Newspaper