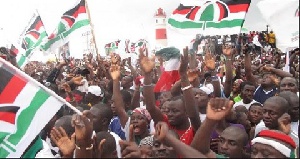 Founder and General Overseer of the Grace of Life Gospel Ministry International, Rev Eric Okai, has admonished the National Democratic Congress (NDC) must accept collective responsibility for the 2016 defeat instead of blaming and lambasting each other.
According to the man of God, if care is not taken, the ongoing tension and name calling, could be disastrous for the largest opposition party.

Speaking in an interview with Nyankonton Mu Nsem on Rainbow Radio 87.5Fm, the man of God said the ongoing internal party wrangling after the defeat of NDC, has some spiritual influence and should the party unite and seek the face of God, they will surmount the challenges confronting the party.

Some senior members of the NDC have taken to the media attacking the former President for the defeat suffered in the 2016 presidential race.
But the man of God believes the blame game is unnecessary and has rather admonished the party to channel their energies in finding solutions to what caused their defeat.

The duty of an opposition party he said ''is to put a government on its toes and ensure that the right things are done but wasting time on blaming each other will not augur well for them as a party, he stressed.

Satan he added is the author of confusion and from the way the NDC are blaming themselves, they will end destroying each other. So I will encourage them to unite as a team, work hard and find solutions to their challenges.''