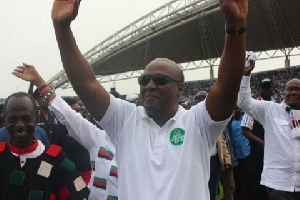 Alfred Okoe Vanderpuije, the former Mayor of the Accra Metropolitan area has declared that he is ready to supposed former president John Dramani Mahama if the latter decides to run in 2020.
According to Okoe Vanderpuije, who is now the Member of Parliament for Ablekuma South Constituency, John Mahama is a valuable candidate for the New Democratic Congress political party.

There have been several debates and commentary on whether John Dramani Mahama will take a chance at presidency again in the 2020 elections after making history as the only sitting president to lose incumbency in the 2016 General Election.

John Mahama, on his part, has indicated on several occasions that he would not be contesting for presidency again, but recents reports have shown contradicting directions.
Adding his voice to the debate, Vanderpuije stated that John Mahama "should not be thrown away".

He stated that if the former president decides to run, he should be given a fair chance to.

Vanderpuije complained that there was no person as "popular" out there as John Mahama, who can be "marketed to 2020".