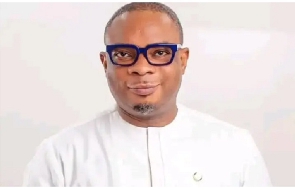 The Komenda-Edina-Eguafo-Abrem(KEEA) Constituency Secretary for the governing New Patriotic Party(NPP), Mr. Francis Kwaw Asmah has observed there is a bright future for the party in the area.
He observes that unlike in times past when executives had to go begging for aspirants to contest elections in the area on the ticket of the party, the situation has taken a dramatic turn.

"Since 1992 I have been a witness to this development, but this year, the parliamentary primaries is far different, unlike the past where NPP executives of KEEA chased people within the party to contest for the seat on its ticket " Kwaw Asmah disclosed.

The NPP executive made the observation when the Deputy Chief Executive Officer(CEO) at Ghana Export Promotion Authority(GEPA), Mr. Samuel Kofi Dentu visited the party secretariat to pick nomination forms to contest the upcoming Parliamentary Primaries.

"I am happy that today people are rather rushing to pick up nomination forms to contest for the parliamentary primaries in KEEA. The four aspirants contesting for the NPP parliamentary primaries in KEEA encourage us that there is a future hope for NPP in KEEA", he observed

He used the opportunity to caution followers of all the aspirants to refrain from engaging in campaigns of insults and verbal attacks before, during after the contest.
On his part, the aspirant observed the NPP has on several occasions fought for KEEA after the Ing. Dr. Nana Ato Arthur who doubles as the Head of the Local Government Service won it in 2012.

"I strongly believe that God will use me to make history for NPP in KEEA by winning the seat for the second time. Looking at the number of aspirants vying for the MP position shows God is blessing KEEA NPP to win the seat come 2024", he said.

Since 1992, when the NPP boycotted the parliamentary election after its defeat in the presidential elections, the seat has been the preserve of the National Democratic Congress (NDC).

It was Dr. Ato Quarshie who won the seat for the NDC in three consecutive general elections (1992, 1996 and 2000).