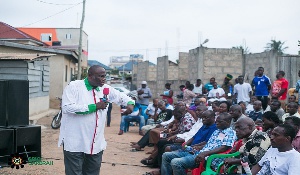 Wed, 28 Nov 2018 Source: newswiregh
Ekwow Spio-Garbrah, a flagbearer hopeful of the Opposition National Democratic Congress (NDC), has charged delegates of the party to change their mindset and think like record breakers ahead of 2020 elections.
According to him, since independence, no political party has been removed from office through the ballot box after only one term, so it would be a record for the NDC to achieve that feat in 2020. He urged NDC members to think like record breakers to be successful in engaging the New Patriotic Party (NPP) and its supporters in an intellectual and psychological battle and kick them out of power after they serve one term.

Dr. Ekwow Spio-Garbrah gave the above advice during his encounter with the NDC Constituency Executives and Branch Chairmen of the Tema Central Constituency at the weekend to drum home his forward agenda.

In addition, Dr. Ekwow Spio-Garbrah, admonished them to form new slogans and songs which reflect clear cut messages of the party and then go on to teach their branch members adding that "this is a war of the mind".

The experienced politician and former diplomat said "Instead of singing ONAAPO, you should say NDC, WE ARE COMING BACK. Instead of chanting Bobolebobo, chant NPP one-term, NDC WE ARE COMING BACK. Akufo-Addo, ONE-TERM, NDC, we are coming back!".

Dr. Ekwow Spio-Garbrah reminded delegates about their suffering thereby assuring them of a paradigm shift of doing things in the party to reward loyalty when elected as flagbearer and President.
To this end, he declared "I suffer pass all of you...but l am injected with the principles of Dr. Kwame Nkrumah and the discipline of former President Rawlings...so vote for somebody who has suffered like you so that you can come out of your suffering"

Dr. Ekwow Spio-Garbrah, the flagbearer aspirant who has served the party in different capacities from 1993 to date explained his seven-point agenda to the constituency representatives. He said when he is elected as flagbearer, he would create a Welfare Committee at the National, Regional and Constituency levels as well as the establishment of a credit union where party members stand the chance of becoming not only members but customers and shareholders.

He added that there would be entrepreneurship training where party members would be trained to think like entrepreneurs so that they could become top businessmen and women for them to have the chance to do business with government should they do well.

Other points in his agenda include; Assist the youth with education, skills training, scholarships and jobs; Build offices for all constituencies to ensure logistics are properly shared; Strengthen women's wing to include income generating activities; As President, spend one afternoon each week at party's headquarters to meet party members and Create National and Regional Business Development Committees.
Source: newswiregh