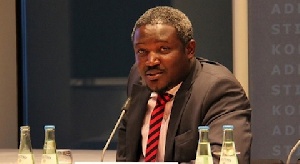 A deputy Minister of Information Perry Okudzeto has said government is not oblivious of the fact that unemployment is a challenge in the country, but calls for disclosure of the number of jobs created in the last seven months is too early.
"It is too early to begin to count the number of jobs that this government has created," he said, Wednesday August 2, 2017 on Morning Starr.

He added: "Initiatives have been rolled out and as we go along as government whatever the numbers are we will come back to you on it. As I speak to you I cannot pinpoint and state that we have created 1000 jobs or two or three jobs."

Mr. Okudzeto's comments follow threats by some irate members of the invisible forces, a vigilante group affiliated to the ruling New Patriotic Party (NPP), that they will cause mayhem if they are not immediately given jobs.

According to the group, officials of the Akufo-Addo government, who hitherto to the elections were on good terms with them, suddenly do not pick up their calls if they call them.
"We mobilised ourselves to come and meet you and you promised us that there are some jobs on the way coming, we exchanged numbers with those that were supposed to employ us. I have called them for almost two months now, nobody is ready to answer my calls.

"And we are the soldiers and will still be the soldiers. Please, we want to tell our people, if they will not give us jobs to do, what happened in Kumasi will happen in Accra. We are even ashamed, some of us are home and they are laughing at us," an angry member of the group told the gathering at the event, which was being hosted by the Ministry of Information.

But in his reaction to the threat, Mr. Okudzeto said "it is the right of the government to provide jobs for Ghanaians. But anybody who errs in committing a crime will be dealt with accordingly."