Politics Sat, 22 Oct 2016
Trainee teachers endorse Akufo-Addo, NPP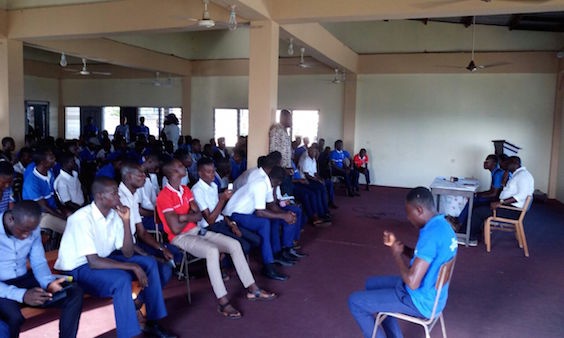 Some trainee teachers at the Presbyterian College of Education (PCE) at Akropong in the Eastern Region have declared their support for the New Patriotic Party presidential candidate, Nana Addo Dankwa Akufo-Addo.
ADVERTISEMENT
According to them, the NPP has not only outlined policies and programmes that would help shape training of teachers in the country, it demonstrated that under the John Agyekum-Kufuor-led government.

They argued the NPP "has preached qualitative educational policies" as well as programmes that would ensure teacher retention and commitment to duty hence urged all trainee students across the country to vote the NPP into power.

Speaking at a news conference at the school, leader of the group Mathias Larbi Ansah said, "we appeal to all training colleges in Ghana… never to think twice in voting for Nana Addo Dankwa Akufo-Addo.

" We the students of PCE are overly confident in the manifesto of the NPP, we believe Ghanaian students won't be disappointed, and certainly an Akufo-Addo administration will honour the details of this manifesto," he added.

"Again, a vote for Nana Addo is a vote for moderate fees, full payment of allowances, qualitative educational standards and good job placing after school," he said.

They have also endorsed the parliamentary candidature of Nana Ama Dokua for the Akropong constituency. According to them her contributions and commitment to their College stands unparalleled.
ADVERTISEMENT
"We the students of PCE having met all the parliamentary candidates in the constituency, have come to the conclusion that, the NPP candidate is our best bet going into 2016 elections," Ansah said.

Meanwhile, the students who are not happy that the government has failed to restore their trainee allowances said the NPP's promise to reinstate their allowances is something they believe the party would fulfil when voted into power.

They expressed their disappointment over government's decision to restore only the allowances for trainee nurses leaving trainee teachers across the country to their fate.

According to them, the decision is discriminatory, and questioned the rationale behind that, suggesting that the John Mahama-led government's decision seeks to win sympathy votes from trainee nurses.

They wondered why President Mahama, who had earlier indicated his readiness to lose the December 7 elections than to restore the allowances, backtracked at the last minute to restore it for trainee nurses.
ADVERTISEMENT