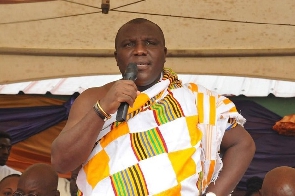 Wed, 12 Jun 2019 Source: Anthony Mensah
Residents in Mpraeso Constituency of Ghana has given the strongest indication to reject the Member of Parliament for the area, Hon. Seth Kwame Acheampong, should the governing party, New Patriotic Party (NPP), present him for the 2020 General elections.
According to the recent report on the role and functions of Members of Parliament by the Political Science department of the University of Ghana with funding from the Konrad Adenauer Stiftung foundation, 79% of the respondents rejected the three-term MP.

The assessment, per the research paper, indicates that only 2% of the respondents saw his delivery as a legislature as excellent with 46% indicating poor show. Hon. Acheampong, who is the chairman of the Defence and Interior Committee of Parliament scored 16.24, placing 263 out of the 275 MPs.

Per the findings of the research, only 95 incumbent MPs would retain their seats if elections were held today. Statistically, 49 percent of Ghanaians in the 275 constituencies across the country indicated that they would vote for their incumbent Member of Parliament should the elections be held today, whereas 42.6 percent responded negative and 7.9 percent remained undecided.

When asked if MPs promised development projects in their campaign manifestos, 88.7% said yes while 11.3% said no. The research amongst other things also revealed that 52.3% of respondents were not satisfied with the performance of the parliamentarians.
The two major political parties in Ghana are yet to go to polls to elect their representatives for the 2020 General elections.


Source: Anthony Mensah