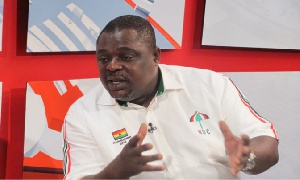 Deputy General Secretary of the opposition National Democratic Congress (NDC), Mr Koku Anyidoho has said the party is unfazed by a survey conducted by the Political Science Department of the University of Ghana that puts the governing New Patriotic Party (NPP) as favourites with a 52.7 percent.
He commends those who conducted the research but indicated that the NDC is poised to shock them in 2020 with the view that opinion polls are mostly different from the reality.

Mr Anyidoho cited instances in the US elections where Hillary Clinton was considered favourite but when the real polls were conducted, Donald J Trump who was not given a dog chance, emerged victorious to the shock of the pollsters themselves and US citizens.

This he emphasized will be the kind of shock the NDC party intends to give to Ghanaians when it goes to the polls in 2020.

A survey conducted by University of Ghana Political Science Department survey that revealed about 52.7 percent of the people interviewed will vote to maintain the president after one year in office.

The poll conducted from December 9 – 20, 2017 also disclosed about 33.1 percent of the 5,000 respondents say they will vote for the NDC.
But reacting to the outcome of the survey, the Deputy NDC scribe said this has no impact on the chances of the of the party as far the 2020 polls is concerned.

"Seriously, the UG report does not scare us. I'm not surprised about the results because conducting research at the University is a form of adding more intellectual to your work and so I give them the benefit of the doubt. But as I said, It won't scare us, it will only help us to do more" he said.

"Donald Trump lost all the polls but he won, and that is how we will shock them in 2020," Mr Anyidohu said

This comes at a time, Economic Intelligence Unit's report predicts another victory for the NPP in 2020.

A study by the London-based EIU, however, says president Nana Addo Dankwa Akufo-Addo's age in 2020 may pose a challenge to his second term chances.
The president will be 76 years by 2020 when elections are due, but the report said his age may trigger strong calls from members of the governing New Patriotic Party (NPP) for him to stand down.

The EIU study predicted the calls could lead to infighting in the party that is likely to affect the political fortunes of the NPP at the poll.

Save the challenges president Akufo-Addo's age may pose, the NPP is on its way to record another victory over the National Democratic Congress (NDC), the report said.