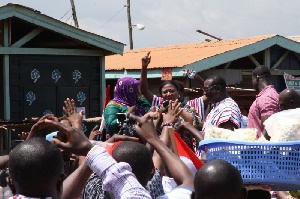 The wife of the flag bearer of the New Patriotic Party (NPP), Mrs Rebecca Naa Okaikor Akufo-Addo, has said the '1-district-1-factory' and the 'one constituency one million dollars' policies of the opposition New Patriotic Party (NPP) are a deliberate strategy to stimulate local economies and create the needed jobs for Ghana's development.
Mrs Akufo- Addo, who was at the Shai Osudoku constituency to campaign for change, met the traditional council, outlined aspects of the NPP manifesto, and asked for their prayers and support for Nana Akufo-Addo and the NPP in the December polls.

She also met traders at the Dodowa market, where she called on voters to consider the current hardships brought on them by poor economic management, high taxes, a prolonged power crisis, high utility tariffs, and vote for a Nana Akufo-Addo-led NPP government to improve healthcare, lower taxes, and create a better economic environment for businesses to thrive.

She added: "The NPP believes businesses like yours should have access to MASLOC loans and other low interest loans to help you improve your lives and those of your families."
Mrs Akufo-Addo later donated some items to the Dodowa and Asutsuare clinics and ended her tour with a rally at Asutsuare, where she told the people to continue to pray for her husband and the NPP to rescue the country from the current economic mess.

She was accompanied by regional executives of the NPP, former Ministers of State, NPP Shai Osudoku parliamentary candidate Stephen Nana Ayortey, his executives, and other party faithful.