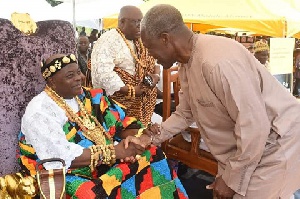 Mon, 7 Nov 2016 Source: Maxwell Okamafo Addo
Vice President Paa Kwesi Bekoe Amissah-Arthur on Saturday urged Ghanaians to maintain the peace and stability of the nation to propel the Government's accelerated development agenda.
Vice President Amissah-Arthur made the request when he addressed a grand durbar to climax the celebration of the festival of Hogbetsotsoza of the chiefs and people of the Anlo Traditional Area, in Anloga in the Volta Region.

And also used the opportunity to unveil two completed educational projects at Keta Secondary School.

He explained there could be no meaningful development in the absence of peace.

Vice President Kwesi Amissah-Arthur also assured Ghanaians that a second term of President Mahama's administration will not only be used for job creation but also for further infrastructural development.
He said the government will continue to ensure that communities will have their fair share of infrastructural development. He said the development of the Volta region will be a focus of government.

The Vice President as they can all witness the massive development that has taken place there the need for continuity , so Ghanaians to retain the governing National Democratic Congress (NDC) come December 7th presidential and parliamentary elections for it to continue and complete the development projects it was working on.

He used the occasion to wish the people of Anlo a very successful anniversary since its significance it's very important looking at its history.
Source: Maxwell Okamafo Addo