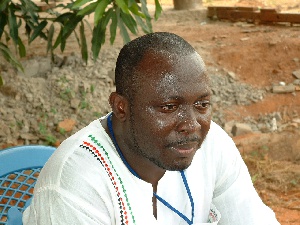 A disgruntled member of the opposition New Patriotic Party (NPP) in the Akwatia Constituency, Francis K. Buah, has told residents of the area not to make any mistake to vote for any of the parliamentary candidates vying for the Akwatia seat other than the incumbent MP, Baba Jamal.
Baba Jamal is the governing National Democratic Congress' (NDC) parliamentary candidate for the area.

Buah who on Monday, October 10, 2016 resigned from the Akwatia NPP Communication team told prospective voters in the area that Parliament is for serious minded people and it would be disastrous to vote for a candidate who has no clue as to how the legislature works.

"It is instructive to note that I have done a comparative analysis of all the three candidates who filed their nominations at the Electoral Commission by the close of nominations, Hon. Baba Jamal for NDC, Madam Ama Sey for NPP and Madam Joyce Sakyi for CPP. Let me admit that even though they all qualified to contest but Akwatia Constituency deserves the best. I have come to the conclusion that among the three the persons who will give us effective and quality representation in Parliament is Hon. Baba Jamal."

"I call on all citizens of Akwatia Constituency that this is NOT the time for experiment in Parliament. It will be sad that at this time and age, Akwatia will send any intellectual liability to parliament. If Akwatia will continue to develop then we need tried and tested people," he noted in his leaked resignation letter dated October 10, 2016.
According to him, although he has resigned from the communication team of the elephant family, he still remains staunch member the Danquah-Busia-Dombo tradition.

That aside, he believes in the vision of the party's 2016 presidential candidate, Nana Addo-Dankwa Akufo-Addo and will continue to campaign for him to be president.

However, he said, "When it comes to the "MPship" I will encourage all voters in the constituency not to repeat the mistake of the past but to choose Hon. Baba Jamal to continue with his developmental agenda for the district."